NCKU's GLORIA 2.0 SOUTH showcases results at BIO Asia-Taiwan Exhibition 2021
By Hsieh I-yen 11/05/2021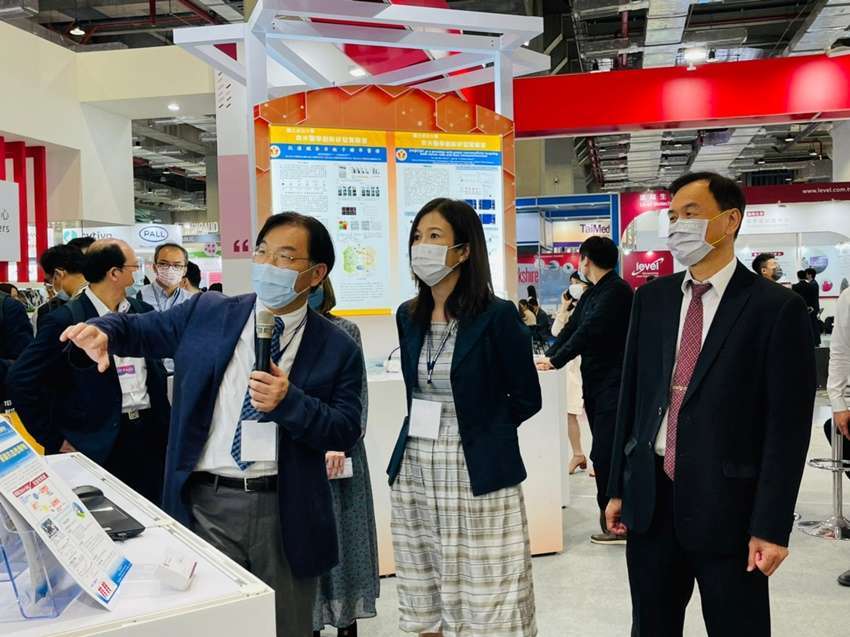 Department of Academia-Industry Collaboration and Science Park Affairs Director-General Andrea Hsu (center) visits NCKU's booth, while NCKU Vice President Su Fong-chin (right) and NCKU Innovation Headquarters Director Chuang Woei-jer (left) share the highlights of NCKU's GLORIA 2.0 SOUTH. Photo courtesy of NCKU
The platform brings together 12 allied schools, five teaching and research hospitals and selects 22 biotech products and technologies for display
National Cheng Kung University's (NCKU) GLORIA 2.0 SOUTH platform brings on board 12 allied schools, five teaching and research hospitals, their R&D teams and start-up companies, and selects 22 biotech products and technologies to be exhibited at Bio Asia Taiwan 2021 from Nov 4 through 7. Its booth attracted many visitors on the first day of the event, hoping to successfully link international capital, business cooperation and product promotion to North American and international markets in the future.
Bio Asia Taiwan 2021, led by the Ministry of Science and Technology, is a physical and online exhibition in the wake of the pandemic's abatement. At the event, the platform showcases a number of unique technologies around the theme of "precision medicine and smart healthcare." As regards new drug development technology, a team headed by Shieh Dar-bin, a chair professor in NCKU's School of Dentistry, has discovered that zero-valent iron (ZVI) nanoparticles have high anti-cancer efficacy by using the accumulation of iron ions to produce reactive oxides that cause lipid peroxidation of cell membranes and induce cancer cell death.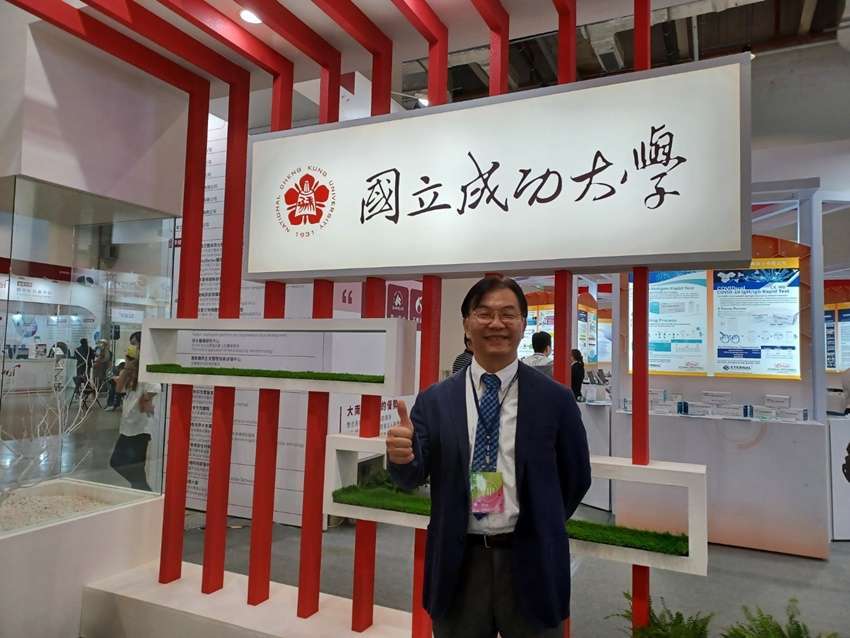 NCKU Innovation Headquarters Director Chuang Woei-jer shares NCKU's commitment to promoting industry-academia collaboration, with the amount of technology transfer exceeding NT$100 million per year for 12 consecutive years. Photo provided by Hsieh I-yen
Using protein modification techniques, a team led by Chuang Woei-jer, Director of NCKU's Graduate Institute of Biochemistry and Molecular Biology, has developed a new anti-thrombotic drug (RR) with higher inhibitory activity against platelet aggregation without affecting platelet adhesion and bleeding, which is expected to replace the current clinical prescription of "dual anti-platelet aggregation drugs" for the treatment of acute coronary syndrome.
The platform also features a variety of mature products in the development of smart healthcare products. The NCKU Communication and Biologic Integrated Circuits (CBIC) Lab is dedicated to the development of biomedical system chips and wearable devices, and has developed seven product prototypes, including a 24-hour heart rhythm detector and a wireless urine testing system, which are being commercialized through a start-up company, YuTech Co. The NCKU iSleepBetter team uses neurofeedback training to bring the user's brain waves back to their natural state through a few minutes of training a day, which has been proven in clinical trials to shorten the time it takes to fall asleep and improve sleep quality.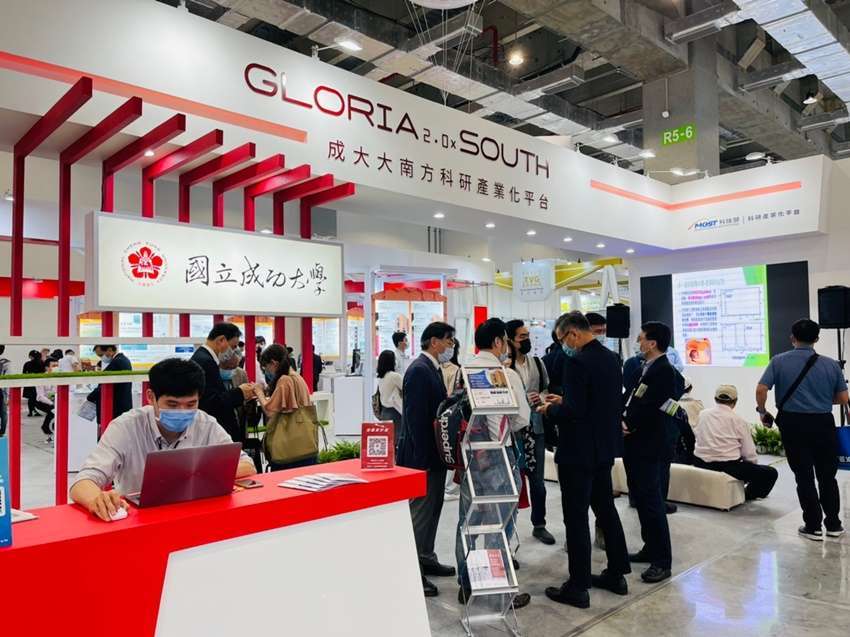 The NCKU GLORIA 2.0 SOUTH exhibition stall is the scene of intense enquiries and interaction. Photo courtesy of NCKU
"NCKU GLORIA 2.0 SOUTH" is composed of 12 schools: National Cheng Kung University, National Formosa University, Far East University, National Kaohsiung University of Science and Technology, Cheng Shiu University, Southern Taiwan University of Science and Technology, National Pingtung University, Kun Shan University, National Tainan Junior College of Nursing, National University of Tainan, CTBC Business School and Chang Jung Christian University, bringing together the rich R&D capabilities, forward-looking intellectual property resources and diverse and international industry-university-institute links of the allied schools to create a regional inter-university integration platform. The platform participates in this edition of the BIO Asia-Taiwan Exhibition by specifically inviting five teaching and research hospitals, including NCKU Hospital, Kaohsiung Veterans General Hospital, E-Da Hospital, Chiayi Christian Hospital and Chiayi Chang Gung Memorial Hospital, as well as R&D teams and start-up companies derived from allied schools and hospitals as exhibitors, in a bid to expedite the advancement of industry-academia links and cooperation, strengthen talent and technology matchmaking across universities, provide quality technology and talent to the industry, and revitalize new forms of innovation and collaboration between industry, academia and institutes.
Click Num:
Add to Favorites
Share